There are not many artist community forums online. Also, I don't like to put all of my eggs in one basket. I feel that there is always something useful to gain from any of the art sites. This is not really a review of those communities, I just want to point out some of their positive points.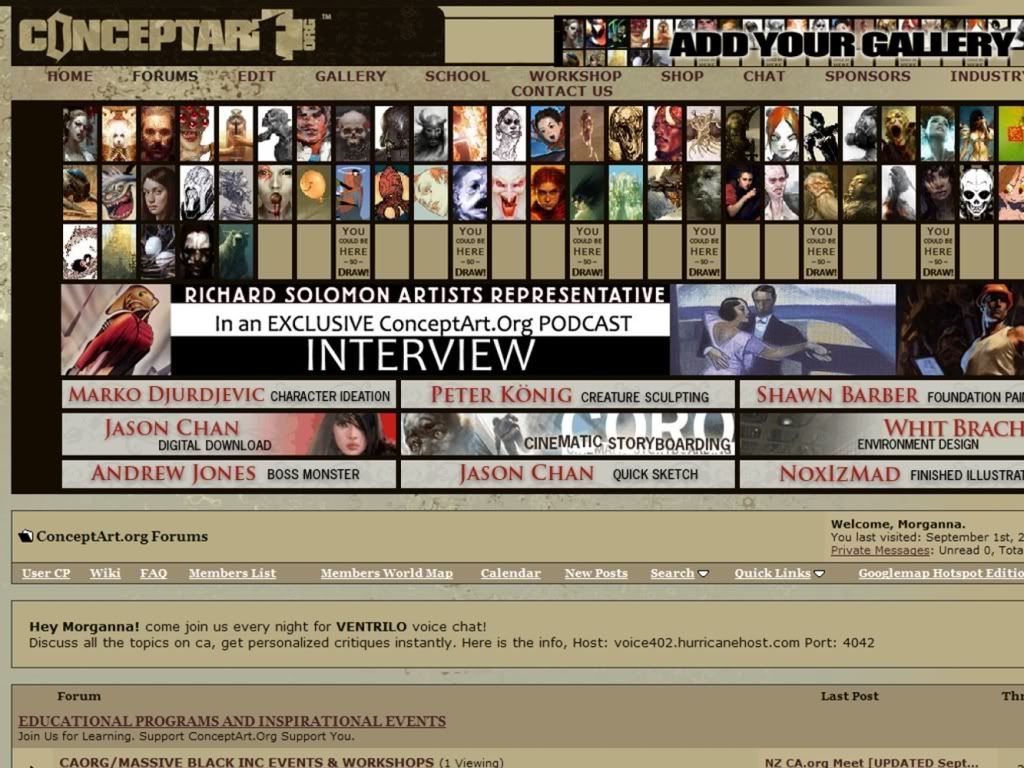 Lets examine the finer points of Conceptart.org.

This site is huge! It's membership holds, 133,699 members, 123,651 threads, and 1,868,320 posts. The sites search engine is pretty good too, so it's easy to get specific information.

You will not find a better resource for learning drawing from imagination, and from memory. Don't think this site is just for concept artists either, there is a really top notch fine artist section! And, the finally finished area will absolutely make you drool, either with envy or delight, with the raw skill that lives here!

And if you are a concept artist, this place is house to many of the big dogs in the industry. There is a wealthy employment section for freelance concept artists!

Best of all, is the laid back atmosphere. I can always count on finding good conversation to read.

In summery, don't sell concept art short! It's in my opinion some of the best in fine art. It gives us something to think about, and tells a story. It is also some of the most difficult art to create. Far too often I've seen fine artists crap on them, and I don't understand it, as most professional concept artists are classically trained, and are at the top of their craft.

Don't take my word for it, go visit the forum, and don't forget to look at the finally finished thread.
Conceptart.org forums