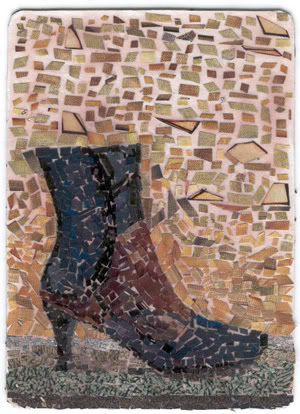 Mosaic Boot, by Shannon Fleet, (Morganna)
2.5" X 3.5" Recycled, paper mosaic.
This was experimental, and my first attempt at this. I must say that I enjoy making them.
The tiles are basically tiny, flecks of catalog, and magazine. Unlike a collage, I decided instead of cutting out an image, that I could cut up the image and make my own. I will explain this whole process in another post, just to keep this brief.
The next step is to figure out a way to make them more light fast and archival, while still recycling junk mail, before I can go on to more ambitious projects.